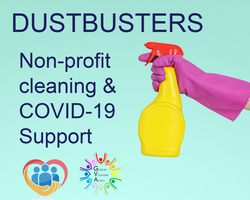 Dustbusters
Support Our Cause!
Next Gosport Community Lottery draw on Sat 2 July at 8PM
The draw is in 6 days 23 hours 26 minutes!
About Us:
Dustbusters is Gosport Voluntary Action's accredited not-for-profit domestic cleaning service. It is for residents of Gosport who are older/vulnerable and/or have a disability, but would like to continue living independently in their own home.
During the COVID-19 pandamic, Dustbusters are also providing critical shopping and prescription collection service the those who need it most in Gosport.
The general Dustbuster service includes:
General housework
Cleaning Kitchens/bathrooms
Vacuuming
Changing bed linen
Cleaning the inside of windows
Shopping
Laundry and ironing
We need your help so we can continue to offer and this much-needed service!
Thank you for your support and good luck!
Yours sincerely,
Mrs Jessica Gant
Recent Supporters:
Mr W supported us with 2 tickets
885 days ago
Mr S supported us with 1 ticket
935 days ago
Mr E supported us with 2 tickets
972 days ago
Mrs T supported us with 1 ticket
1089 days ago
Mrs F supported us with 1 ticket
1359 days ago
Miss F supported us with 2 tickets
1367 days ago
60%
Support your cause
Feel great knowing 60% of ticket sales will go to good causes - 40% to your chosen cause and 20% to other causes in Gosport.
£1
Only £1 per week
That's right, unlike many other lotteries Gosport Community Lottery tickets are only £1 per week
£25K!
Great prizes
Each ticket has a 1 in 50 chance to win, with a top prize of £25,000! Gift vouchers
Fancy treating your loved ones to something a little different? We've got just the thing!