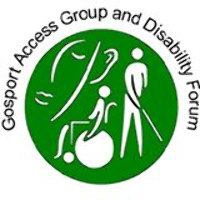 Gosport Access Group and Disability Forum
Support Our Cause!
Next Gosport Community Lottery draw on Sat 2 July at 8PM
The draw is in 6 days 22 hours 34 minutes!
About Us:
Gosport Access Group and Disability Forum represents disabled people (plus their families and carers) who are either living in, have business in, or are otherwise visiting the borough of Gosport, Hampshire.
Our aim is to make Gosport as inclusive and accessible as possible to all residents and visitors, regardless of any disability or impairment.
We do this by working with local businesses, services providers and local authorities to raise disability awareness and to improve accessibility for the future.
In addition, we distribute news and information in disability-related matters, as well as signposting people to specialist providers of care and support.
We also run bi-monthly 'open forums' where people can come and raise any issues with access and disability that they might be having.
Much of the work that we do goes unnoticed. However, if we were not here, then disabled people would find it that much more difficult to get around Gosport, thereby reducing their independence and quality of life.
GAGDF is run by volunteers, all of whom are either disabled or are carers themselves. We receive no external funding.
Please support us today.
Looking forward to hearing from you,
From the GAGDF Management Committee Team
Recent Supporters:
Mr M supported us with 1 ticket
126 days ago
Mrs D supported us with 1 ticket
1210 days ago
Mrs D supported us with 2 tickets
1307 days ago
Mrs D supported us with 2 tickets
1338 days ago
Mr M supported us with 2 tickets
1391 days ago
Mrs H supported us with 5 tickets
1395 days ago
60%
Support your cause
Feel great knowing 60% of ticket sales will go to good causes - 40% to your chosen cause and 20% to other causes in Gosport.
£1
Only £1 per week
That's right, unlike many other lotteries Gosport Community Lottery tickets are only £1 per week
£25K!
Great prizes
Each ticket has a 1 in 50 chance to win, with a top prize of £25,000! Gift vouchers
Fancy treating your loved ones to something a little different? We've got just the thing!