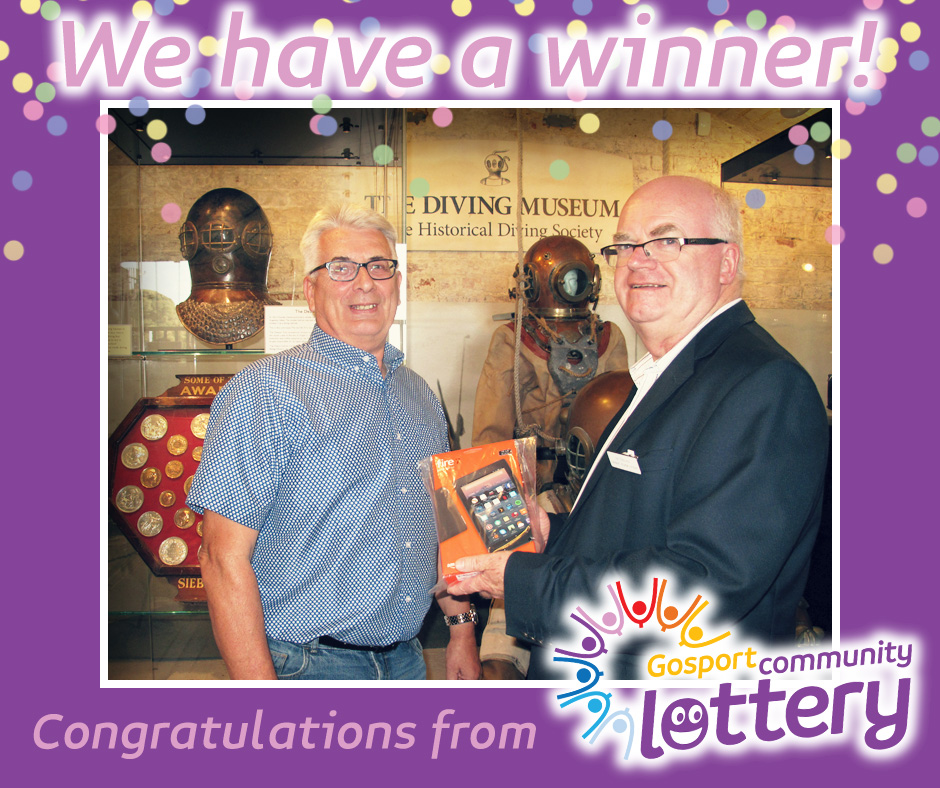 The first draw of the Gosport Community Lottery on Saturday 8 September saw 22 lucky winners! Over £500 worth of prizes were awarded to players, who have a chance of winning a jackpot of £25,000 each week.
Currently 34 local good causes stand to benefit from the Gosport Community Lottery. To date 1137 tickets have been sold, putting it on track to generate £35,000 for Gosport good causes who have signed up so far, including disability and support groups, museums and cultural organisations, charities helping older and vulnerable people, local sports clubs and other community groups.
One lucky winner matched four numbers and won £250, while there were two winners of £25 and 16 people won three free tickets each. Three Amazon Fire tablets with Alexa were won by Ray Charman, Louisa Dale and Lucy Hunt.
At The Diving Museum this week, one lucky winner, Ray Charman was presented with his tablet by Ian Reeves, Acting Chair of Gosport Voluntary Action. Ray said "I am really pleased to have been one of the first winners of the Gosport Community Lottery. I think this is a really good way to raise money for local charities and I hope the lottery will be a great success. I supported Loud & Proud and I encourage people to support the organisation, or one of the many other local good causes to choose from."
The Diving Museum is one of the many good causes players can support. To date they have sold 18 tickets, projecting an annual fundraising total of £374. Kevin Casey of the Diving Museum said "We are really pleased to be part of the Gosport Community Lottery and that we were able to sell some tickets. We hope to sell more and wish it the greatest success and hope the community realise what a great benefit it is to Gosport".
Another tablet winner Louisa Dale, who supported Harbour Cancer Support said 'I'm delighted to have won and it's great the money goes direct to local good causes".
Kathy Preece, who volunteers at Age Concern Gosport won three free tickets and said "Age Concern Gosport are currently set to raise £500 annually from the lottery, which is a significant amount for us – the more people that support us through the lottery, the more local older and, often vulnerable, people we can help get the benefits they are entitled to and find support in the community."
Tickets cost just £1 each and deliver 60% back to local good causes, in comparison to just 28% contributed by the National Lottery. The remaining 40% goes back into the prize fund and pays for the running costs.
To find a cause that's close to your heart and start making a difference on your doorstep visit www.gosportcommunitylottery.co.uk or phone 02393 190222. You may just win one of the cash prizes or even the £25,000 jackpot!
Funds raised this year
£37,596.00
1205 tickets of our 4180 ticket goal