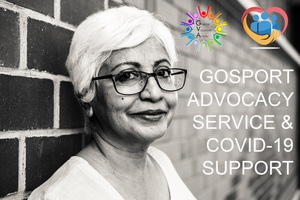 Gosport Advocacy
Support Our Cause!
Next Gosport Community Lottery draw on Sat 23 October at 8PM
The draw is in 6 days 23 hours 49 minutes!
About Us:
Advocacy is a process of helping people, particularly those who are most vulnerable, to:
access information and services
be involved in decisions about their lives
explore choices and options
defend and promote their rights and responsibilities
speak out about issues that matter to them
Due to the COVID-19 situation our Advocates are providing a critical service to those who need it most in Gosport during this challenging time.
An advocate, who is independent of statutory services and local government, will represent your wishes without judging you or giving you their personal opinion. They might help you access information or go with you to meetings or interviews in a supportive role. You may want your advocate to write letters on your behalf, or speak for you in situations where you don't feel able to speak for yourself.
Our Advocates are volunteers, who have undergone training and a DBS check and are supported by the Awards Project Co-ordinator.
We need your help so we can continue to offer this important service.
Thank you for your support and good luck!
Yours sincerely,
Karin Aynsworth
Recent Supporters:
Mr G supported us with 2 tickets
538 days ago
Mrs P supported us with 4 tickets
881 days ago
Mr B supported us with 2 tickets
1126 days ago
Ms T supported us with 1 ticket
1130 days ago
Ms A supported us with 2 tickets
1134 days ago
Miss T supported us with 5 tickets
1135 days ago
60%
Support your cause
Feel great knowing 60% of ticket sales will go to good causes - 40% to your chosen cause and 20% to other causes in Gosport.
£1
Only £1 per week
That's right, unlike many other lotteries Gosport Community Lottery tickets are only £1 per week
£25K!
Great prizes
Each ticket has a 1 in 50 chance to win, with a top prize of £25,000! Gift vouchers
Fancy treating your loved ones to something a little different? We've got just the thing!