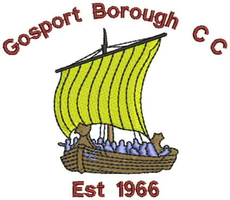 Gosport Borough Cricket Club
Support Our Cause!
Next Gosport Community Lottery draw on Sat 2 July at 8PM
The draw is in 6 days 23 hours 28 minutes!
About Us:
Gosport Borough Cricket Club provides a range of opportunities for people of all ages and abilities to get involved in the game of cricket through playing, coaching, volunteering and spectating. Whether you want to keep active, share your skills or develop new ones, make new friends or just relax and enjoy watching great quality sport in a friendly setting, we guarantee a warm welcome.
We need your help to help develop our facilities, purchase new equipment including a new scoreboard and subsidise training to enable adults and children from all walks of life across the Gosport area to access the game.
Thank you for your support and good luck!
Yours sincerely
Peter Robson

Chairman
Recent Supporters:
Mr D supported us with 3 tickets
88 days ago
Mx B supported us with 1 ticket
291 days ago
Mx B supported us with 1 ticket
655 days ago
Mr R supported us with 1 ticket
833 days ago
Mx B supported us with 1 ticket
1014 days ago
Mr A supported us with 2 tickets
1088 days ago
60%
Support your cause
Feel great knowing 60% of ticket sales will go to good causes - 40% to your chosen cause and 20% to other causes in Gosport.
£1
Only £1 per week
That's right, unlike many other lotteries Gosport Community Lottery tickets are only £1 per week
£25K!
Great prizes
Each ticket has a 1 in 50 chance to win, with a top prize of £25,000! Gift vouchers
Fancy treating your loved ones to something a little different? We've got just the thing!