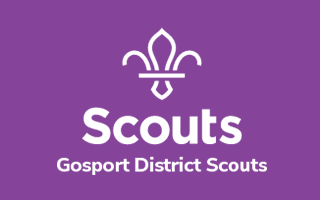 Gosport District Scout Council
Support Our Cause!
Next Gosport Community Lottery draw on Sat 2 July at 8PM
The draw is in 6 days 23 hours 16 minutes!
About Us:
Scouting in Gosport:
History of Scouting in the UK:
The World Scout movement began in the United Kingdom in 1907 when Robert Baden-Powell put into practice his ideas for training young people in responsible citizenship. Scouting has grown to become the UK's biggest mixed youth organisation. We change lives by offering 6 to 25-year-olds fun and challenging activities, unique experiences, everyday adventure and the chance to help others so that we make a positive impact within our communities.

Whilst the method of Scouting has evolved over the years, the fundamental purpose of Scouting remains the same;
The Purpose of Scouting:
Scouting exists to actively engage and support young people in their personal development, empowering them to make a positive contribution to society.
Skills for life:
As Scouts, we believe in preparing young people with skills for life. we encourage our young people to do more, learn more and be more.

Scouting in Gosport:
Scouting in Gosport can be traced back as far as 1908. We are a not-for-profit educational based charity run entirely by dedicated unpaid volunteers.
Please help us to help others:
Your help and support will enable us to provide support to the Scout Group within your area. It will also help us to develop Scouting across the whole of the Borough.
Thank you for your support and good luck!
Yours sincerely,
Robin Peddell
District Commissioner, Gosport Scouts
Recent Supporters:
Mrs B supported us with 1 ticket
395 days ago
Mrs B supported us with 1 ticket
578 days ago
Miss C supported us with 2 tickets
669 days ago
Mrs B supported us with 1 ticket
753 days ago
Mrs D supported us with 1 ticket
816 days ago
Mr H supported us with 1 ticket
827 days ago
60%
Support your cause
Feel great knowing 60% of ticket sales will go to good causes - 40% to your chosen cause and 20% to other causes in Gosport.
£1
Only £1 per week
That's right, unlike many other lotteries Gosport Community Lottery tickets are only £1 per week
£25K!
Great prizes
Each ticket has a 1 in 50 chance to win, with a top prize of £25,000! Gift vouchers
Fancy treating your loved ones to something a little different? We've got just the thing!