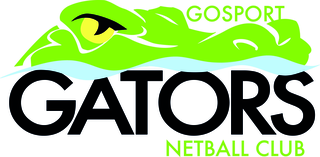 Gosport Gators Netball Club
Support our cause!
Next Gosport Community Lottery draw on Sat 17 April at 8PM
The draw is in 1 day 11 hours 58 minutes!
About Us:
Gosport Gators Netball Club, established approximately 15 years ago, provides netballing opportunities to children and women of all ages and abilities.
Although our club embraces any competative play opportuntities and, of course, we play to win, our primary aim is to ensure our members enjoy the game. We have a junior and adult section of the club which includes an initiative to encourage ladies to take up the sport again called Netball4all.
We have a number of mature ladies playing for the club who are role models to the younger members. We want to spread the word that Netball is a game you can enjoy at any age and you are never too old or young to give the game a go!
We need your help to buy new kit and equipment as our club grows. We need to be able to offier CPD to our coaches. Having just moved our training to an indoor facility we want to support with the refurbishment of our tired surroundings.
Thank you for your support and good luck!
Yours sincerely,
Mrs Liz Hendrick
Club Chairperson
Recent Supporters:
Mr U supported us with 1 ticket
425 days ago
Mrs M supported us with 1 ticket
463 days ago
Mrs M supported us with 3 tickets
467 days ago
Mrs B supported us with 2 tickets
469 days ago
Mrs H supported us with 2 tickets
492 days ago
60%
Support your cause
Feel great knowing 60% of ticket sales will go to good causes - 40% to your chosen cause and 20% to other causes in Gosport.
£1
Only £1 per week
That's right, unlike many other lotteries Gosport Community Lottery tickets are only £1 per week
£25K!
Great prizes
Each ticket has a 1 in 50 chance to win with a top prize of £25,000! Gift vouchers
Fancy treating your loved ones to something a little different? We've got just the thing!