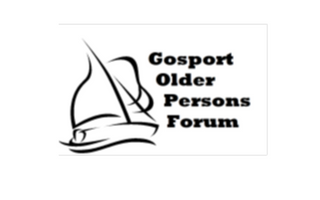 Gosport Older Persons Forum
Support Our Cause!
Next Gosport Community Lottery draw on Sat 20 August at 8PM
The draw is in 3 days 0 hour 8 minutes!
About Us:
Gosport Older Person's Forum promotes the well-being of older persons aged 55 and over living in Gosport. The forum identifies unmet needs of older people, and brings such needs to the attention of statutory, voluntary and commercial organisations. Where possible the Forum provides support for new initiatives through consultation and discussion with its members. It provides representation through attendance at meetings with Hampshire Social Service, the NHS and local council. The results of such meetings are communicated through a newsletter to its members up to three times per year, and also provides opportunity for verbal feed back through its AGM and open meetings.
The Older Person's Forum cooperates with Gosport Borough Council to stage an "Info Fest' in the autumn of each year, at which we bring together numerous organisation that can add to the wellbeing of older people in the Borough.
The Forum aims to build its membership to increase its effectiveness as a consultative and lobbying organisation, introducing as many skillsets and experiences into the Forum as possible.
Money raised is used to pay for venues, increase publicity through advertising, providing literature like the easy read bus timetables, and occasionally running courses such as First Aid in the home.
Recent Supporters:
Mrs P supported us with 2 tickets
204 days ago
Mrs P supported us with 3 tickets
871 days ago
Mrs P supported us with 2 tickets
1211 days ago
Mrs P supported us with 4 tickets
1277 days ago
Mrs S supported us with 1 ticket
1321 days ago
Mrs P supported us with 2 tickets
1367 days ago
60%
Support your cause
Feel great knowing 60% of ticket sales will go to good causes - 40% to your chosen cause and 20% to other causes in Gosport.
£1
Only £1 per week
That's right, unlike many other lotteries Gosport Community Lottery tickets are only £1 per week
£25K!
Great prizes
Each ticket has a 1 in 50 chance to win, with a top prize of £25,000! Gift vouchers
Fancy treating your loved ones to something a little different? We've got just the thing!