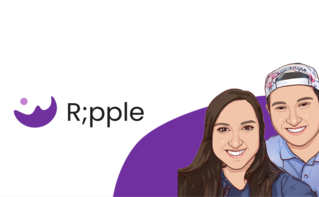 Ripple Suicide Prevention Charity
Support our cause!
Next Gosport Community Lottery draw on Sat 20 August at 8PM
The draw is in 2 days 23 hours 51 minutes!
About Us:
R;pple Suicide Prevention Charity - an online interception tool designed to interrupt people searching for harmful content relating to self-harm/suicide online and redirect them to 24/7, free mental health support.
My Story
I lost my only sibling, my brother Josh, on 25th November 2020 to suicide at 21 years old.
Josh had been researching techniques to take his own life via harmful internet searches. The content available online following a search of this nature currently provides mental health support in one format; a helpline.
To ensure more help and support is given to individuals searching for harmful content online, I set up R;pple Suicide Prevention.
R;pple provides an immediate, vibrant display on a user's device once they have been flagged as searching for online content relating to self-harm or suicide, and consists of a message of hope as well as a selection of mental health resources in a range of different communicative options (call, text, webchat) from free, established and 24/7 charity services.
We need your help so we can continue to develop the tool and make it as intuitive as possible to save lives around the world.
You never know who might need this tool.
Alice Hendy
Recent Supporters:
Ms J supported us with 1 ticket
83 days ago
Ms K supported us with 1 ticket
178 days ago
60%
Support your cause
Feel great knowing 60% of ticket sales will go to good causes - 40% to your chosen cause and 20% to other causes in Gosport.
£1
Only £1 per week
That's right, unlike many other lotteries Gosport Community Lottery tickets are only £1 per week
£25K!
Great prizes
Each ticket has a 1 in 50 chance to win, with a top prize of £25,000! Gift vouchers
Fancy treating your loved ones to something a little different? We've got just the thing!